1136 Main St. Restoration - First Floor
Wildcard is committed to restoring as many of the original features of 1136 Main St. as possible while also bringing the building up to code and making it a functional and beautiful work space.
During the process of stripping away the many old layers of material that have made up the interior of this building for so long, many of the building's original features were uncovered. On the first floor, some of these features include a tin panel ceiling, red brick walls, old window well, a small hearth, hardwood floors, and a large glass atrium centered in the middle of the building, set below what used to be a large second story sky light. 
Wildcard is committed to restoring as many of the original features of 1136 Main St. as possible while also bringing the building up to code and making it a functional and beautiful work space that will continue to serve our community for many years to come.
Tin Panel Ceiling
Before
    
When Wildcard acquired the building, the original tin panel ceiling was covered by framing, insulation and drywall. You can see some of the wood frames left over from the old walls and ceiling in the pictures above.
You can see that different portions of the ceiling were painted different colors from when they were once separated by interior floor to ceiling walls.
Our plans for the first floor includes turning the space to an open-concept great room, so the entire ceiling will be repainted one color. Though the tin panels themselves are still in relatively good condition, they were covered in multiple layers of old paint and needed to be cleaned and stripped. The first step to refinishing the ceiling tiles was sandblasting them to remove both dirt and loose paint, followed by several coats of primer/paint applied by paint sprayer.
A Brief History of Tin Ceilings
What is a tin ceiling? A tin ceiling is an architectural element, consisting of a ceiling finished with plates of tin with designs pressed into them.
These ceilings were very popular in North America during the late Victorian era which spanned from the mid-19th to early 20th century. Tin ceilings gained popularity in America as an affordable alternative to the fashionable carved plaster work that was commonly used to decorate wealthy European homes. In addition to being much more affordable than plasterwork, tin ceilings also provided other architectural benefits. They were incredibly durable, lightweight, easy to clean, and also fireproof -- a valuable characteristic during a time when most home cooking, lighting and heating commonly used gas and open flame.
Tin ceilings were traditionally painted white to give the appearance of hand-carved or molded plaster. They were incorporated into residential living rooms and parlors as well as schools, hospitals and commercial businesses. For Americans, making such decoration available to the middle class majority made tin ceilings very popular in interior design and represented ideas of democracy and the rise of the middle class.
Tin ceilings began to lose their popularity in the 1930s as steel materials became scarce because of efforts to collect scrap metal during WWII. Tin ceilings can still be found in historic buildings across the country and efforts have been made to restore those that remain.
After
  
Hardwood Flooring
Underneath two layers of old vinyl flooring, the original hardwood floor still remained! After many hours and lot of elbow grease the original floor was finally uncovered!
Before
Considering its age, the moisture build-up in the lower level, and the two layers of old vinyl flooring on top of it, the original hardwood floor of the building was mostly intact. Not surprisingly, portions of this 100+ year old floor were damaged and needed replacing. In the above pictures, you can see some large holes in the the floor that were likely a result of electrical wiring and lighting installation over the years. New floor boards will be installed to replace any old damaged floor boards, like those will the holes cut through them. Once the damaged portions of the floor are replaced, the entire floor will be sanded down to help remove blemishes and dirt before it is refinished. Ultimately, we are very happy that the majority of the original hardwood floor is still intact and we look forward to its complete restoration. 
After
Work on the floor is still in progress, but stay tuned for updates on this page! 
According to the Wisconsin Historical Society, "Wood is the most common material used for floors in historic houses and commercial buildings. High-quality and long-lasting woods such as oak, maple and fir were used for floors because they are both durable and attractive. An original wood floor is a significant character-defining feature in a historic structure." The floor at 1136 Main St. is made up of 2 inch Maple slats.
We are very happy to have such a defining feature of this historical building in tact and we look forward to seeing it restored to its full beauty.  
Visit the Wisconsin Historical Society's website to learn more about Preserving Wood Floors in Your Historic Building. 
Windows
Windows are the most visible, yet most commonly under appreciated, components of older and historic homes and buildings.
Windows play a major role in the functionality, beauty, and character of a building, connecting the outside to the inside and offering invaluable insight into a building's history.
Before
During the process of stripping the interior of the building the windows pictured below were uncovered. The pictures on the right shows the two windows set in the west wall, toward the rear of the building, facing the alley way located between 1136 and the Grand Opera House, located at 1126 Main St. At some point in time these windows were bricked over from the outside and walled up on the inside. We intend to open these windows back up, allowing more natural light into the building to help brighten the space once again.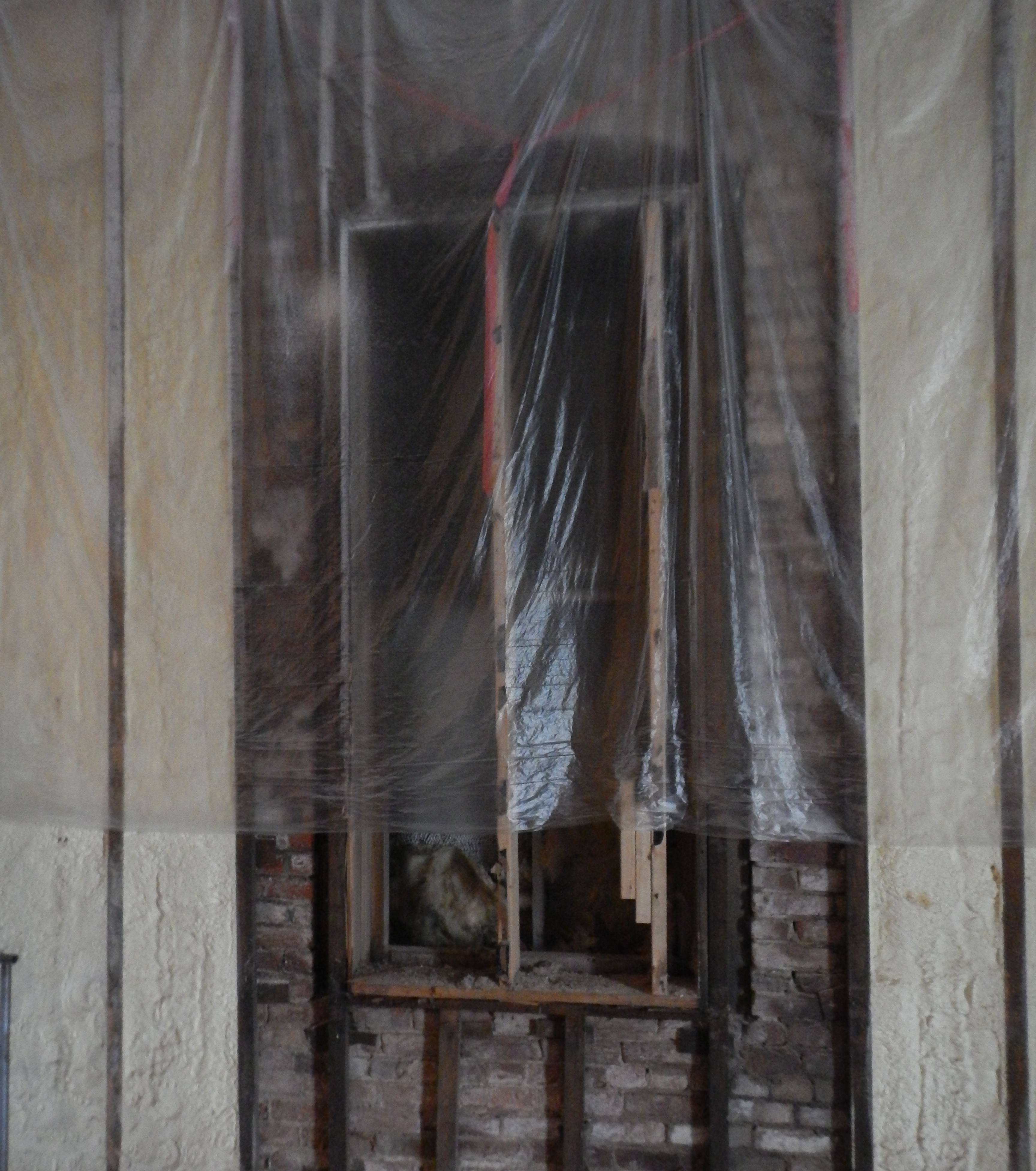 After
New historically accurate replacement windows have been selected, ordered and payed for. Their installation is pending. 
The new windows will provide the efficiency benefits of modern innovations in window-making, while also providing a classic, era appropriate look. Every window much be custom made since the size of each window well is slightly different. 
Stay tuned for post-installation updates!
The Atrium
The word atrium (also called 'cavaedium') is Latin and refers to an open central court.
The atrium was common in ancient Roman architecture, in both public buildings and private homes, with the primary purpose of bringing light into interior spaces during the time before electric lighting came into use. They are still used today to allow natural light into the interiors of buildings. 
In the images below, only the wooden frame of the atrium's ceiling panel remains. Directly above this opening was a large skylight that has long been covered over. At some point in time the skylight was simply covered over when the roof was reline. 
There are 2 skylights on the roof of the building, but both were totally covered over by previous owners.
We plan to uncover the skylight located above the atrium and restore to is full glory. 
Work continues to be made and more pictures will be added as restoration work progresses.
Stay tuned!